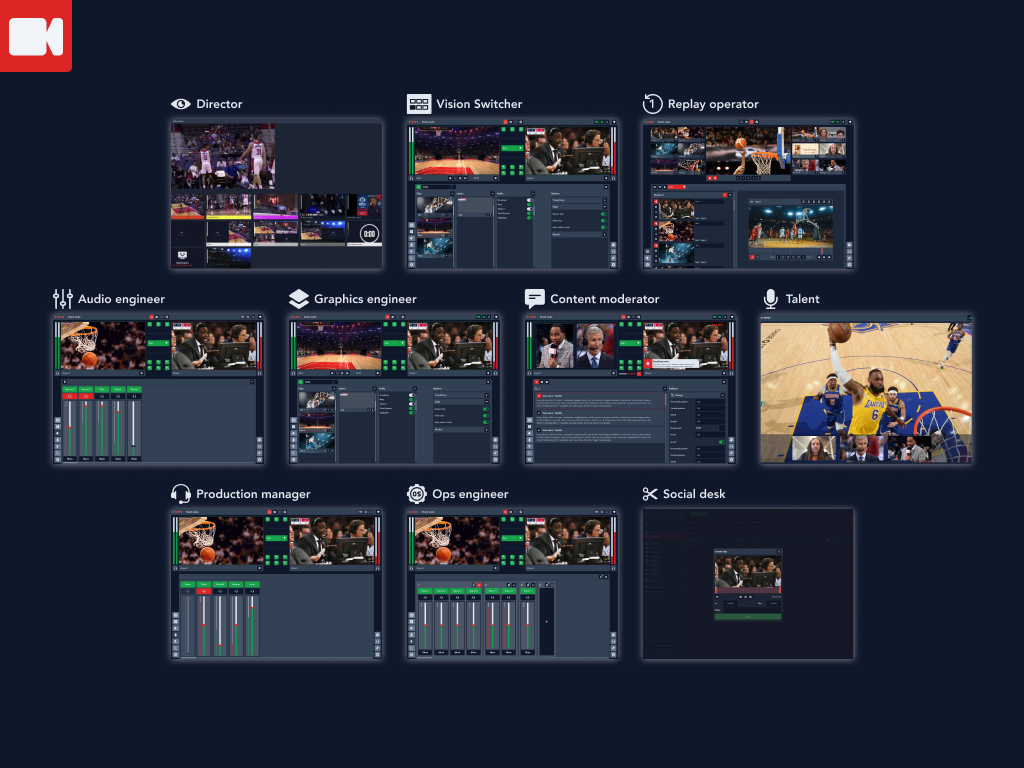 In the rapidly evolving world of broadcasting, the demand for diverse and captivating content for smaller audiences has reached unprecedented levels. Cloud-based solutions have been adopted by the industry to address these challenges, seeking both cost-efficiency and accessibility. As a pioneer in this field, Kiswe has developed a multidisciplinary production studio solution for individual producers and large crews. This article explores how Kiswe empowers these two distinct approaches while keeping up with the latest broadcasting technology.
Making production easier for solo operators
There is no doubt that Kiswe's production switcher is a great choice for one-person shows, even if there is no prior experience with broadcast production. In terms of advantages for one-person shows, there are a number of them:
It is possible to pre-configure layers, transitions, and audio streams with Kiswe prior to the start of the production process. At the touch of a button, these settings are applied, ensuring seamless and professional results.
The tools of communication
Intercom and talkback features make it easy to communicate with talents, commentators, and remote guests.
Integration with Streamdeck
Kiswe connects to Streamdeck, an easy-to-use hardware device with customizable shortcuts. It eliminates the need for time-consuming mouse navigation by simply pressing a button to operate the studio.
Productions with multiple language tracks
In one production, Kiswe allows the creation of multiple language tracks, making it easy to cater to a range of diverse audiences within a single production.
A user-friendly interface
It provides a straight-forward environment for producers to focus on content creation and is designed to be user-friendly, free of technical jargon, and to allow them to focus on content creation, rather than other details.
With Kiswe, users have the option to save their initial setup as a template for recurring shows or series. In just one click, these settings can be applied to all future broadcasts in the same way, ensuring consistency and ease of use for all viewers.
How to Optimize Collaboration for Multidisciplinary Teams
In order to accommodate larger production teams, Kiswe has developed a number of role-specific user interfaces. There is a fine tuning of each role according to the requirements of the position, which ensures a seamless collaboration and an efficient workflow within a single production.
Director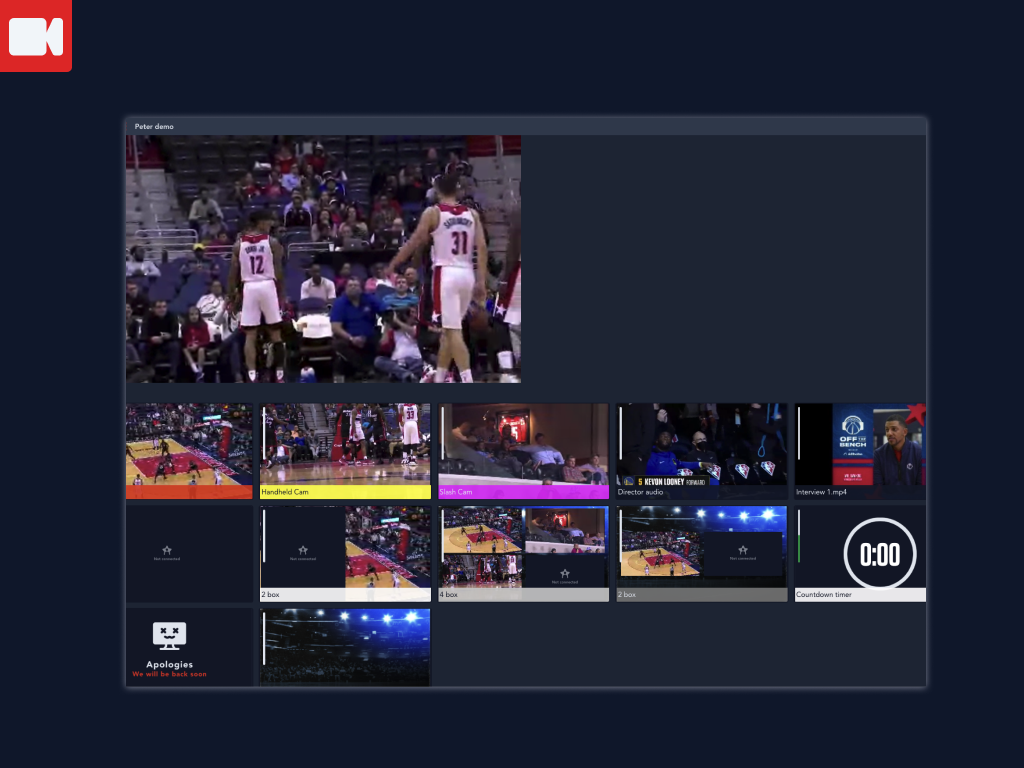 It is the director's responsibility to oversee the production, taking care of the control room and the crew. It is their responsibility to maintain quality output, working closely with the studio camera operators, vision switchers, audio operators, and graphic operators to ensure quality output is produced. With a multiviewer, you are able to see inputs and outputs from numerous different angles at the same time.
Vision Switcher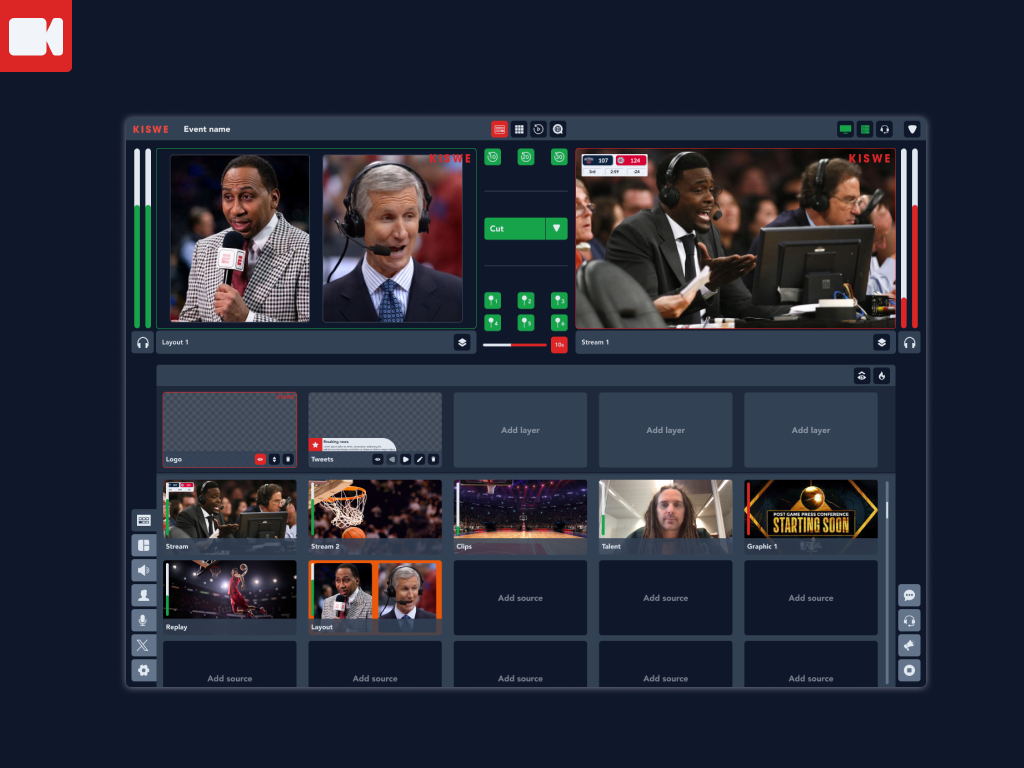 There are a number of video sources that can be switched between by the vision switcher, including camera shots and video clips that can be selected. In this role, the main switcher grid is an ideal interface due to its visual overview of all scenes, the multimedia buttons at your fingertips, and the ability to switch macros instantly between them. Streamdecks make it easy for these actions to be performed, ensuring smooth transitions at all times.
Replay Operator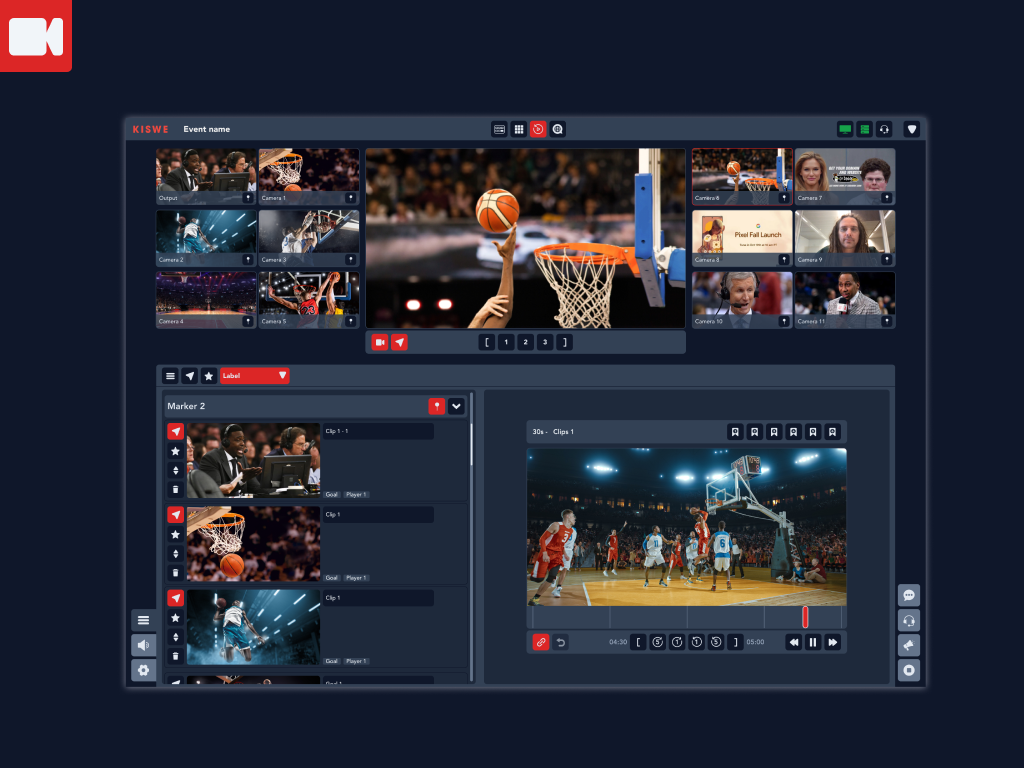 A replay operator is responsible for managing the highlights of events and creating segments for digital distribution of those highlights. With the click of a button, it is possible to instantly create replays with a variety of timeframes, all of which can be edited. The Kiswe team is also working on developing an advanced user interface that will allow replay operators to tag, edit, group, and trim their clips.
Graphics Engineer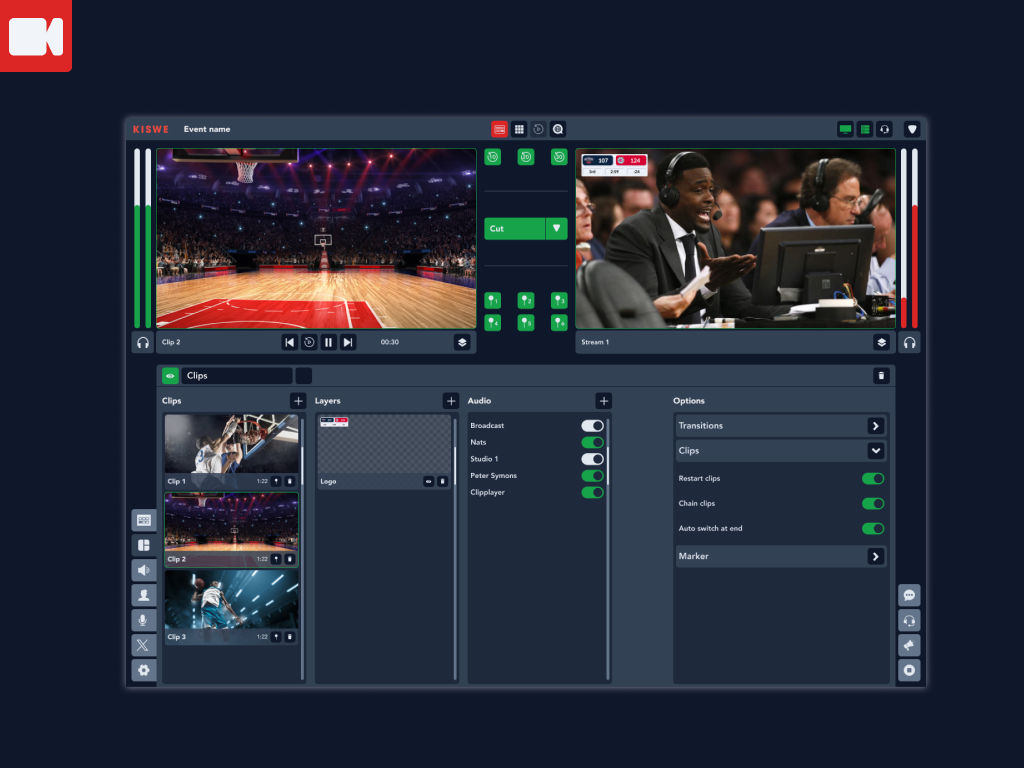 On-screen graphics are prepared and displayed during in-studio shoots by graphics engineers who react quickly and are flexible to display graphics as required by the action on camera. It is possible to seamlessly add layers to the production, either directly from the switcher or by integrating them with third-parties, enhancing the visual appeal of the finished product.
Audio Engineer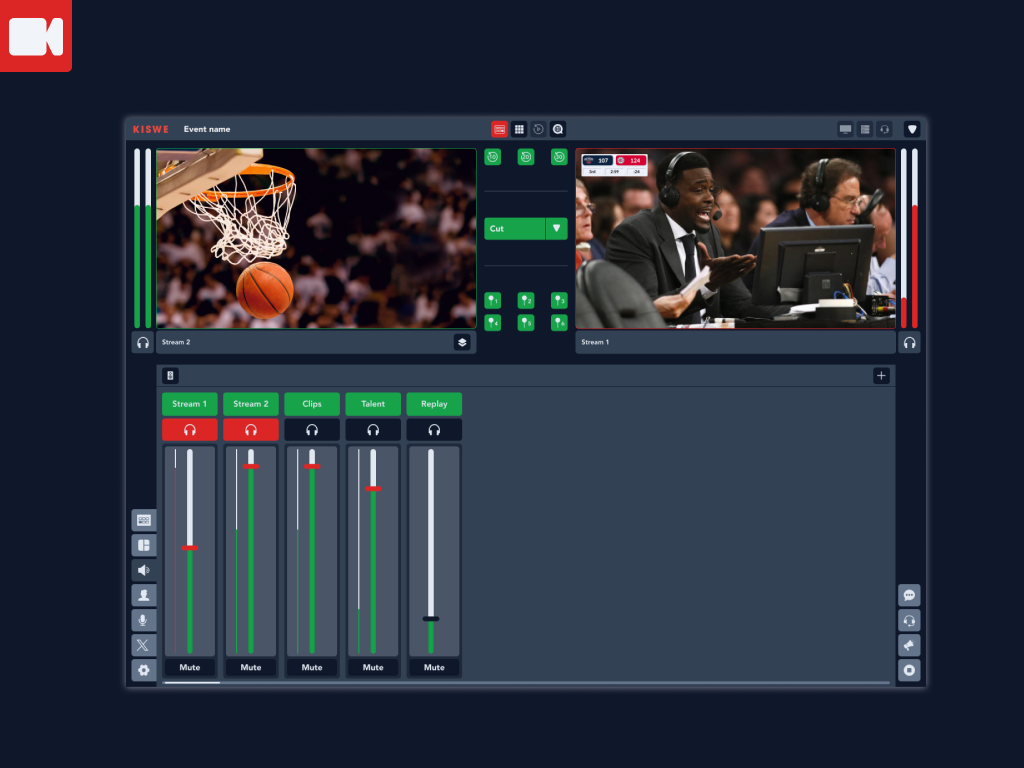 The audio engineer operates an audio mixing desk, ensuring appropriate volume and quality of mic outputs. Audio engineers have full control over the volume levels of all streams, talent, and internal communication tools as well as the quality of the audio. Monitor mixes can be customized for internal use.
Content Moderator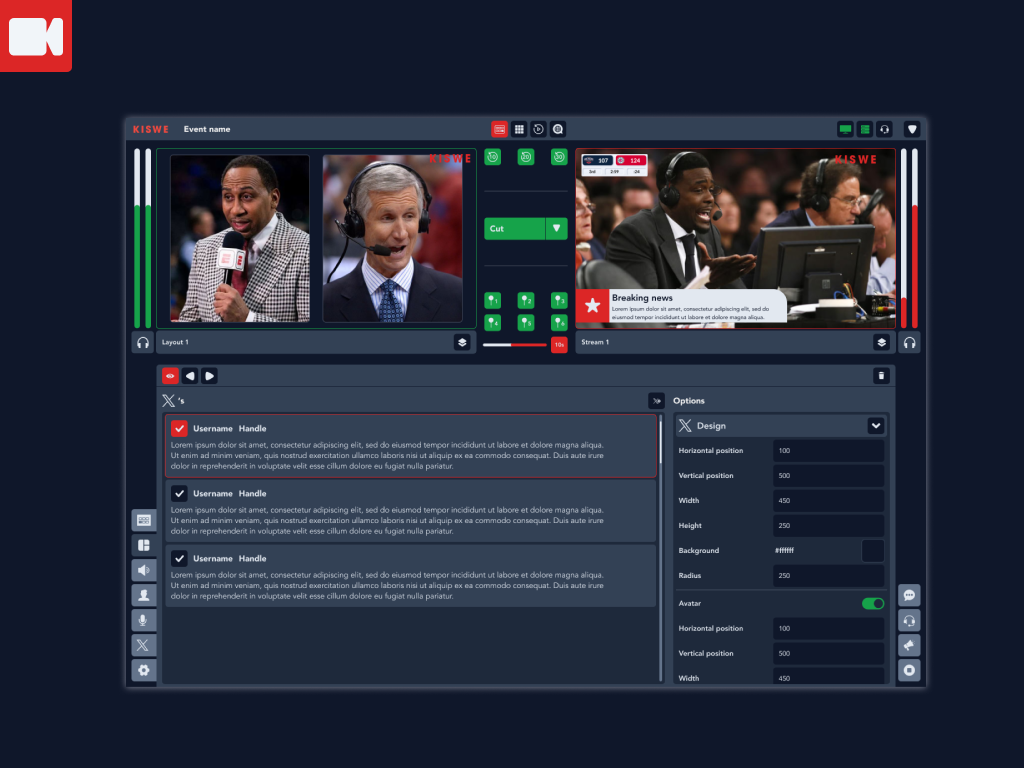 Content moderators engage with the audience by integrating user-generated content seamlessly into the production. They curate and customize content, allowing producers to incorporate it into the show.
Talent/Commentator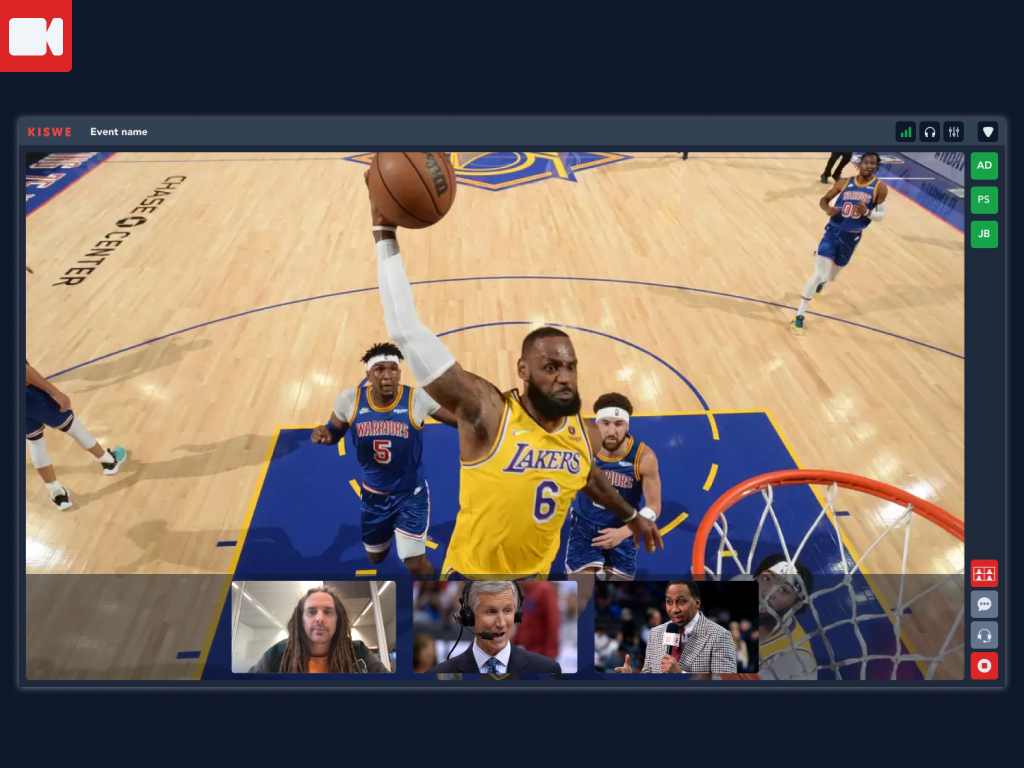 An ongoing show can be joined remotely by experts and VIPs, who enjoy a simplified user interface tailored to their specific needs. There is a mute button for their audio, as well as a monitor audio mix for personal use.
Production Manager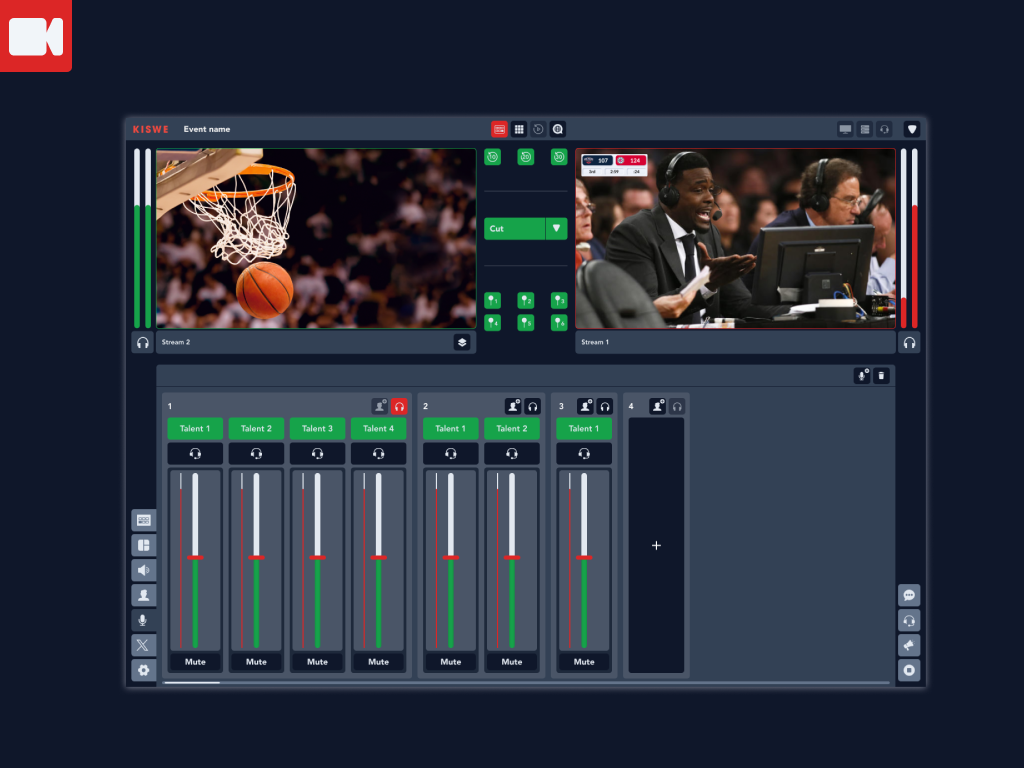 Organization of the crew and management of technical requirements are the responsibilities of the production manager. To instruct and assist the remote team and guests, they operate the main communication channels, including intercom, talkback, and individual talkback.
Social Desk - Publicist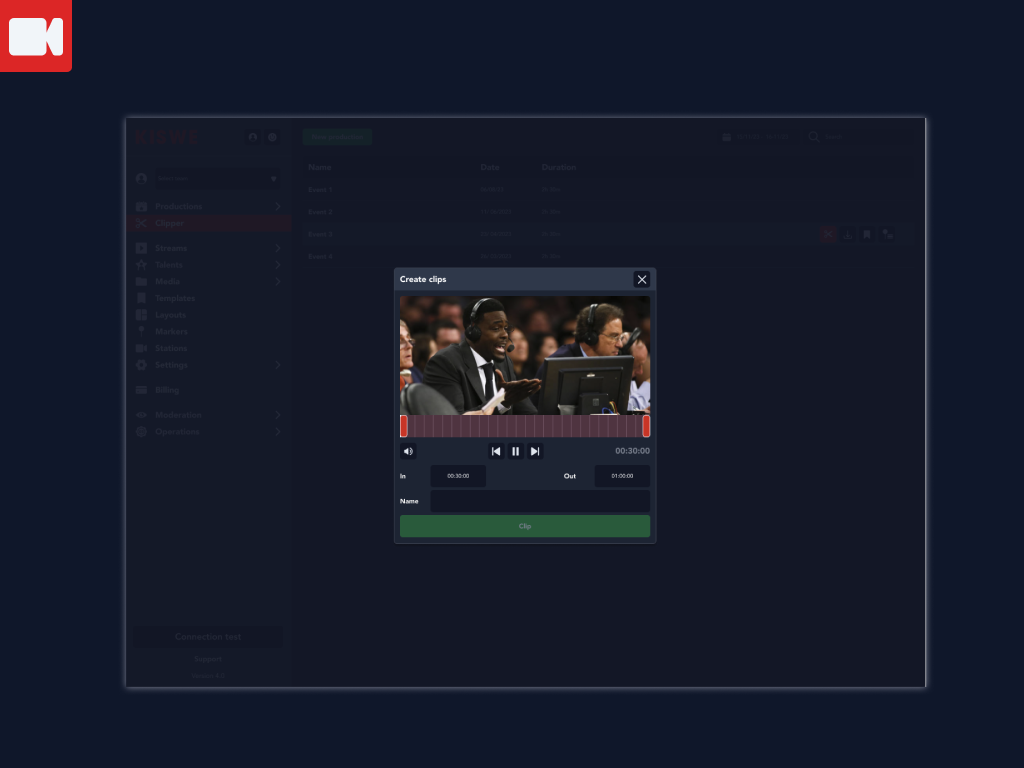 Publicists work to raise awareness of a production's airing in order to increase viewership and sales of the production. A publicist can create, edit, and trim short clips using Kiswe, which enables them to share live, ongoing events via social media immediately after they create them and edit them.
Operations Engineer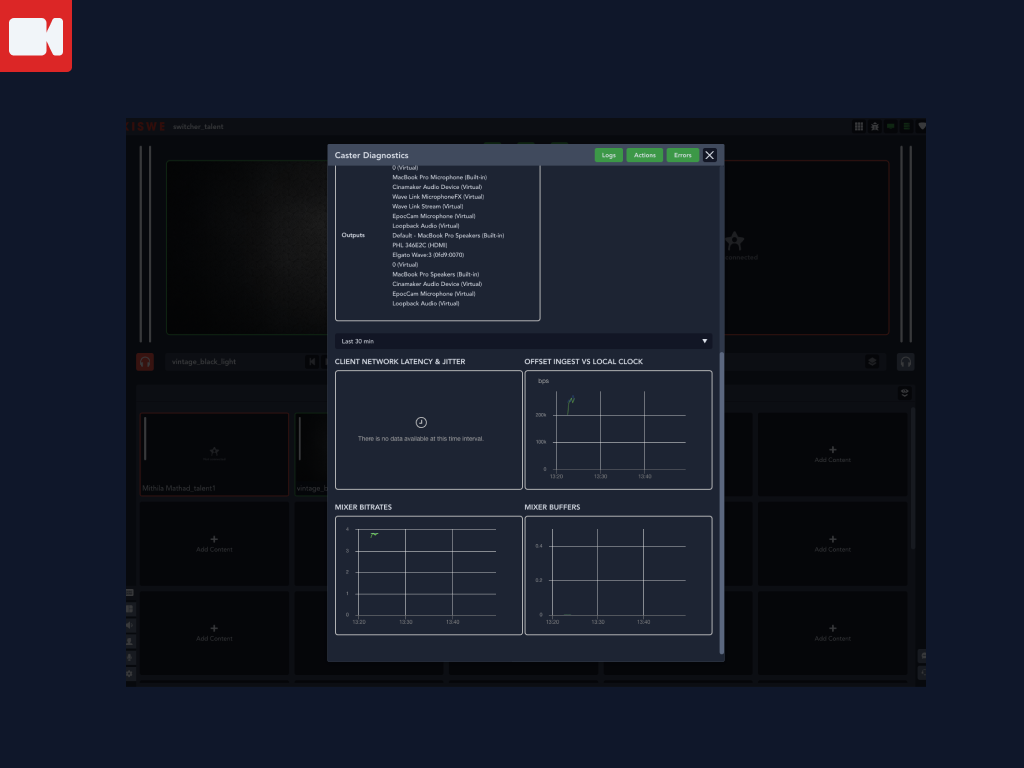 Operational engineers monitor technical parameters and ensure that all streams are of high quality. Using advanced statistics and direct links to servers and encoders helps maintain high-quality broadcasting and identify issues quickly.
Master Control Room operator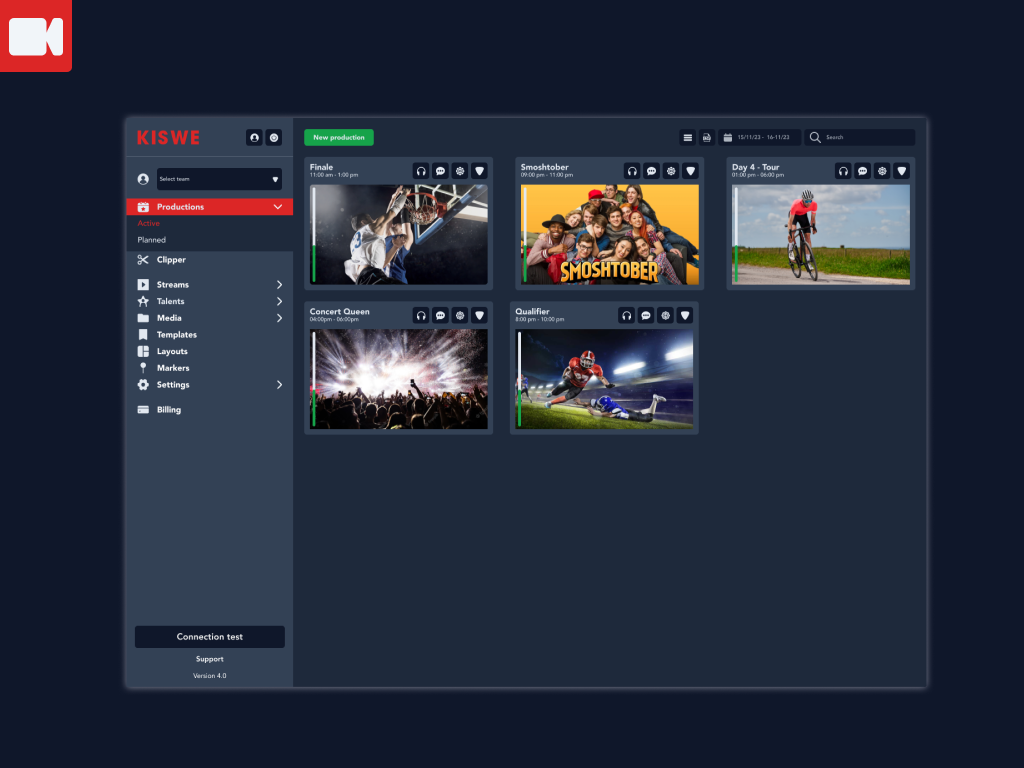 In the master control room dashboard, you can get an overview of the different productions that are running at the same time. A production management system enables direct contact with crews as well as ensuring the health of the production at all times.
As a conclusion
As a result of Kiswe's advanced and user-friendly platform, we've been able to cater to the ever-evolving needs of the broadcast industry for a long time.Whether you're a solo operator seeking streamlined production or part of a larger multidisciplinary crew, Kiswe's array of tools and features empowers you as you take on your creative journey.If you are interested in discovering how Kiswe can revolutionize your broadcasting experience, please contact our sales department today.
The future of broadcasting is here with Kiswe, where innovation meets versatility and technical excellence to deliver the best broadcast experience possible.