Enhanced talent onboarding process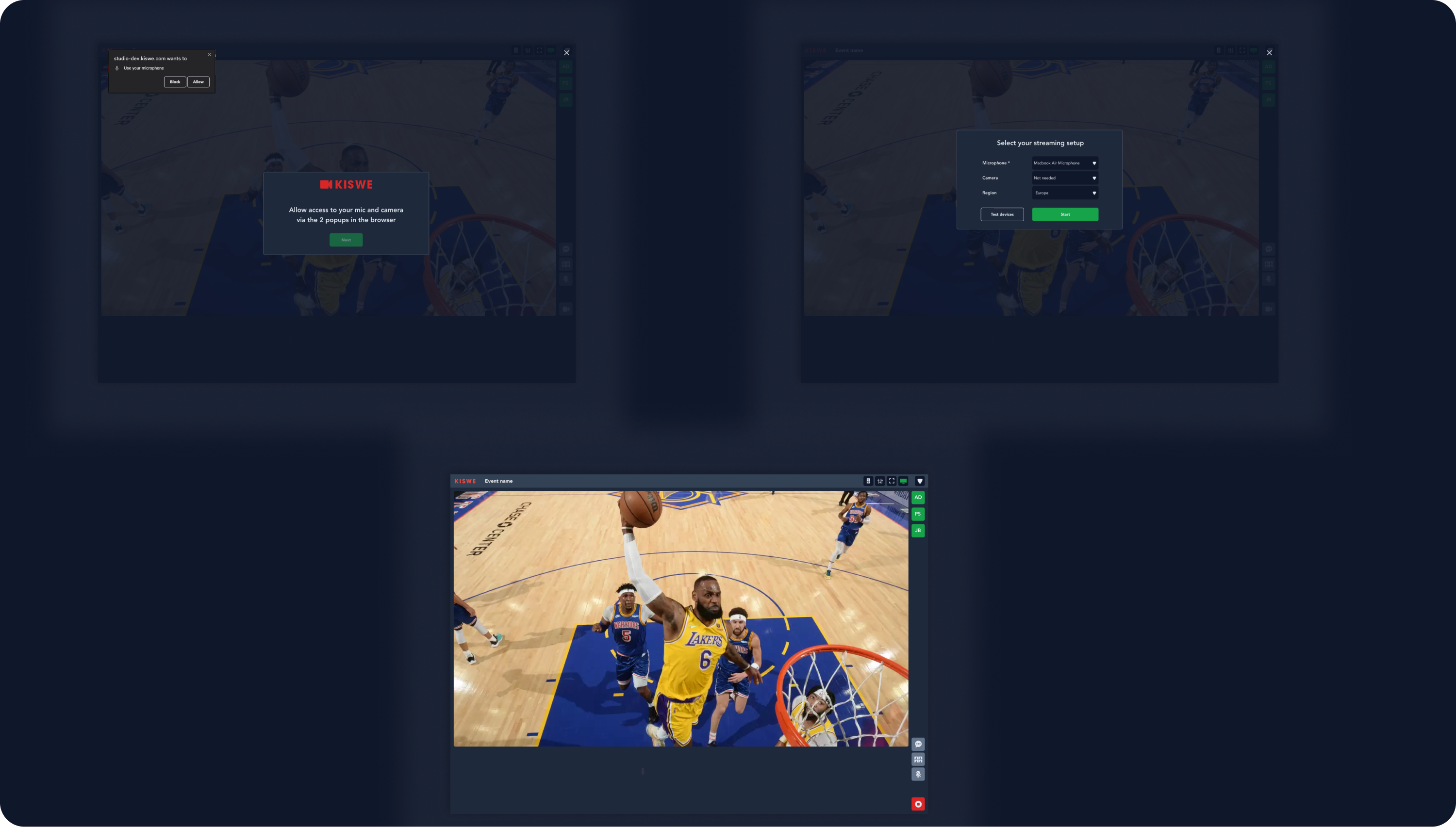 We've streamlined the process for talents, guests, and commentators to join a production. Upon entry, they're prompted to configure browser settings for audio and video stream access. After accepting these settings, they select their preferred device and closest region. This swift setup ensures they're streaming and connected promptly.
https://support.kiswe.com/hc/en-us/articles/13955809089047-Join-a-production
Revolutionized template workflow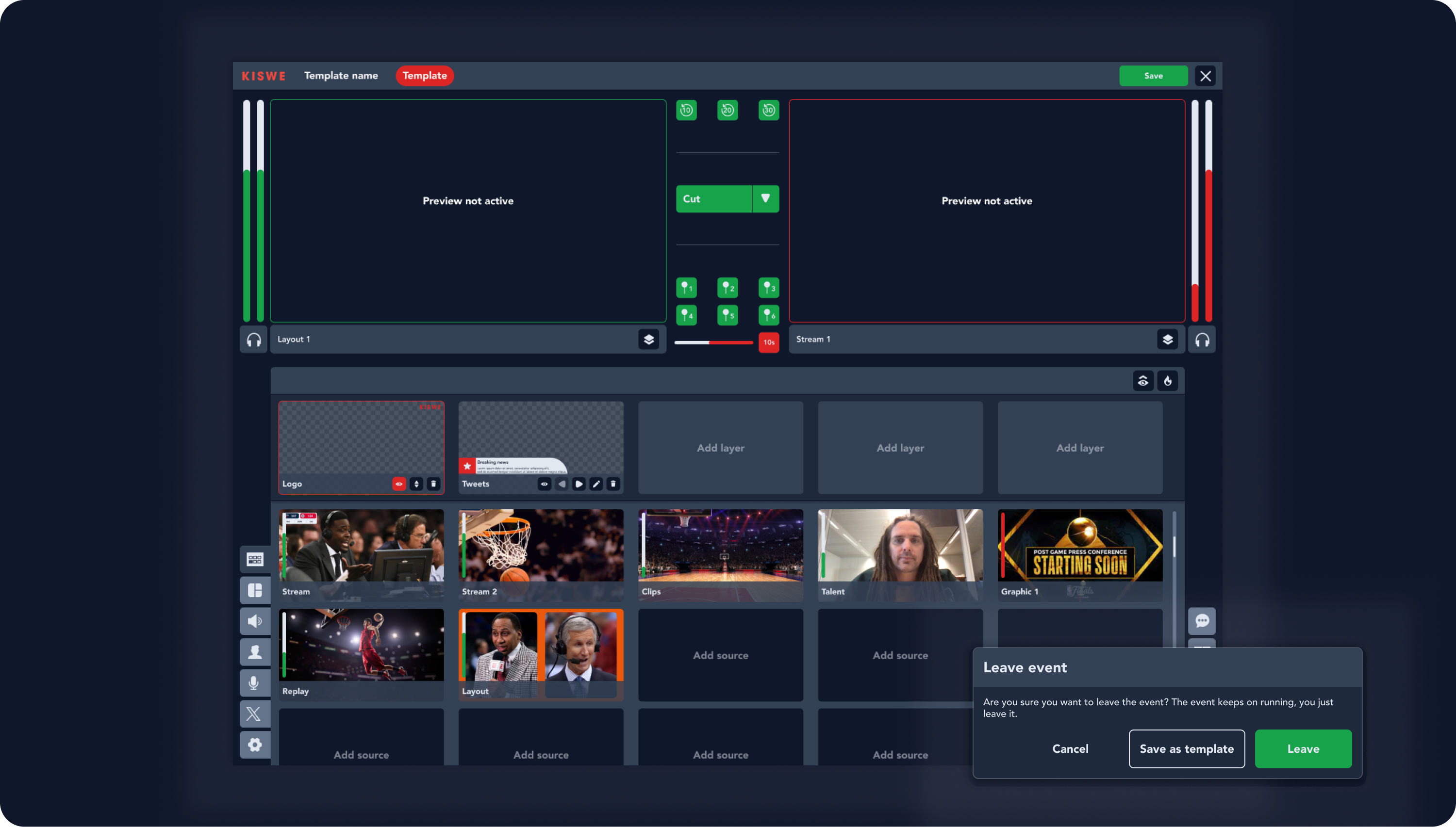 Templates are invaluable for recurring productions, enabling the rapid setup of new events with consistent settings. Recognizing the complexity of our previous system, we've made significant improvements. Now, you can effortlessly save an event as a template upon exiting a production, either as a new template or by overwriting an existing one. Furthermore, templates can be directly edited, eliminating the need to establish a new event for modifications.
https://support.kiswe.com/hc/en-us/articles/13955476606743-Template-manager
Content picker integration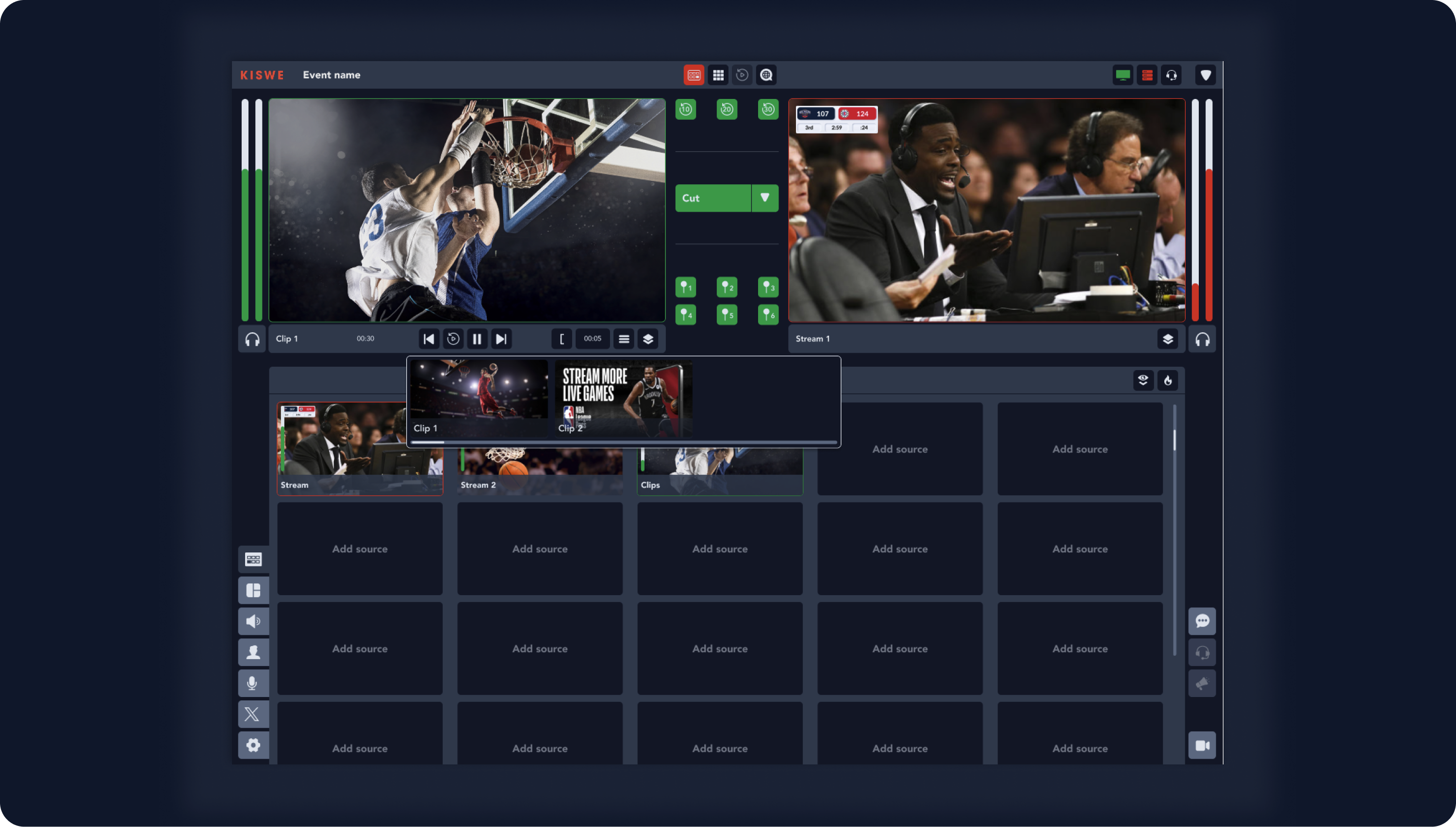 Adjacent to the layer button, which displays all layers in a scene, we've introduced a feature to view and select content within the scene without leaving the switcher grid. This addition allows immediate visibility and selection of graphics, clips, and replays with a single click, streamlining the content management process.
Comprehensive dashboard for production information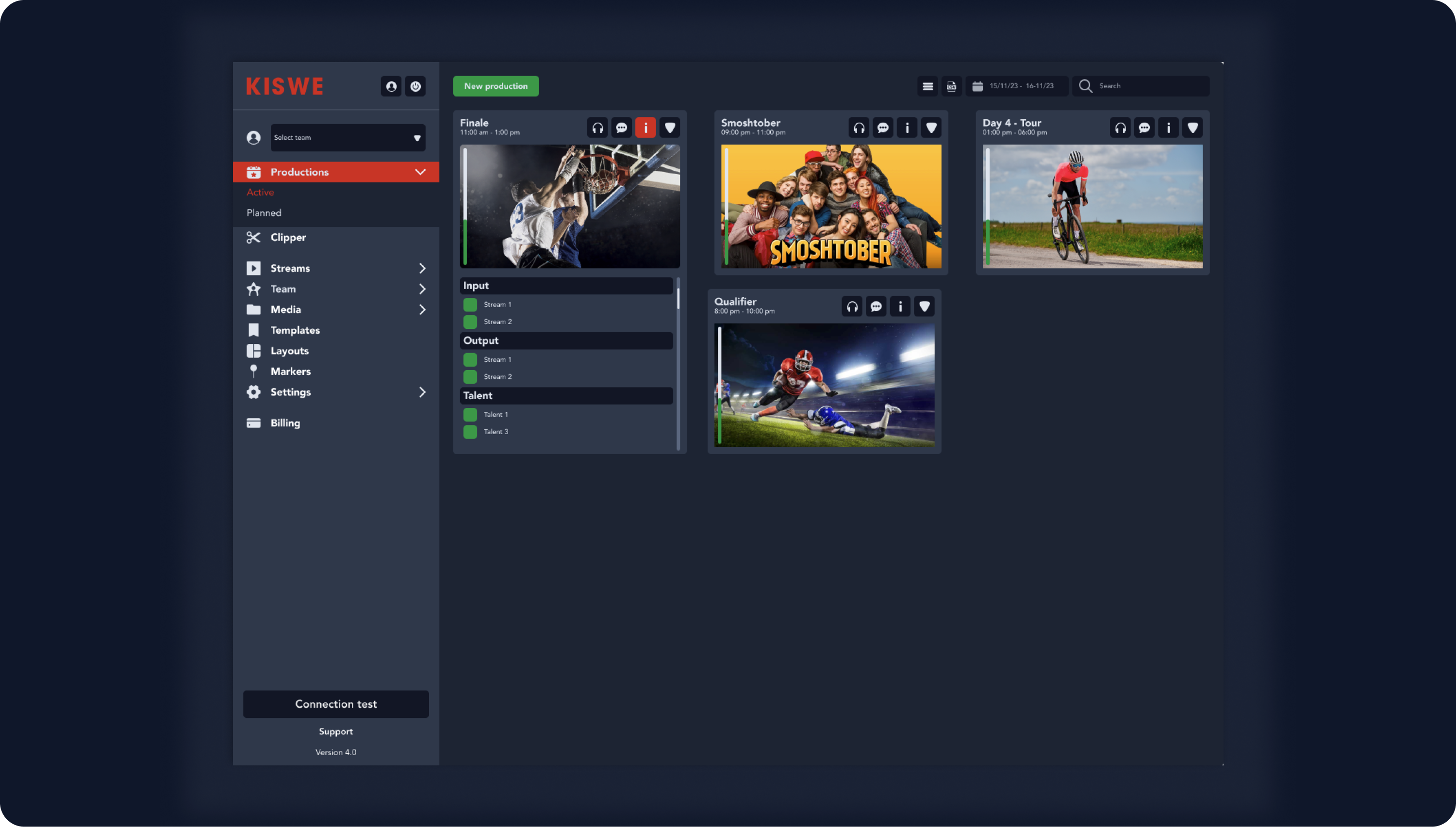 Our enhanced dashboard is an essential tool for managing multiple simultaneous productions. It now includes detailed information about streams, talents, crews, and connectivity status, negating the need to access each production individually. Additionally, each production's menu includes a shareable link for talents and guests, facilitating easier collaboration.
https://support.kiswe.com/hc/en-us/articles/13916031328791-What-is-the-Studio-
Clipper redesign for optimized usability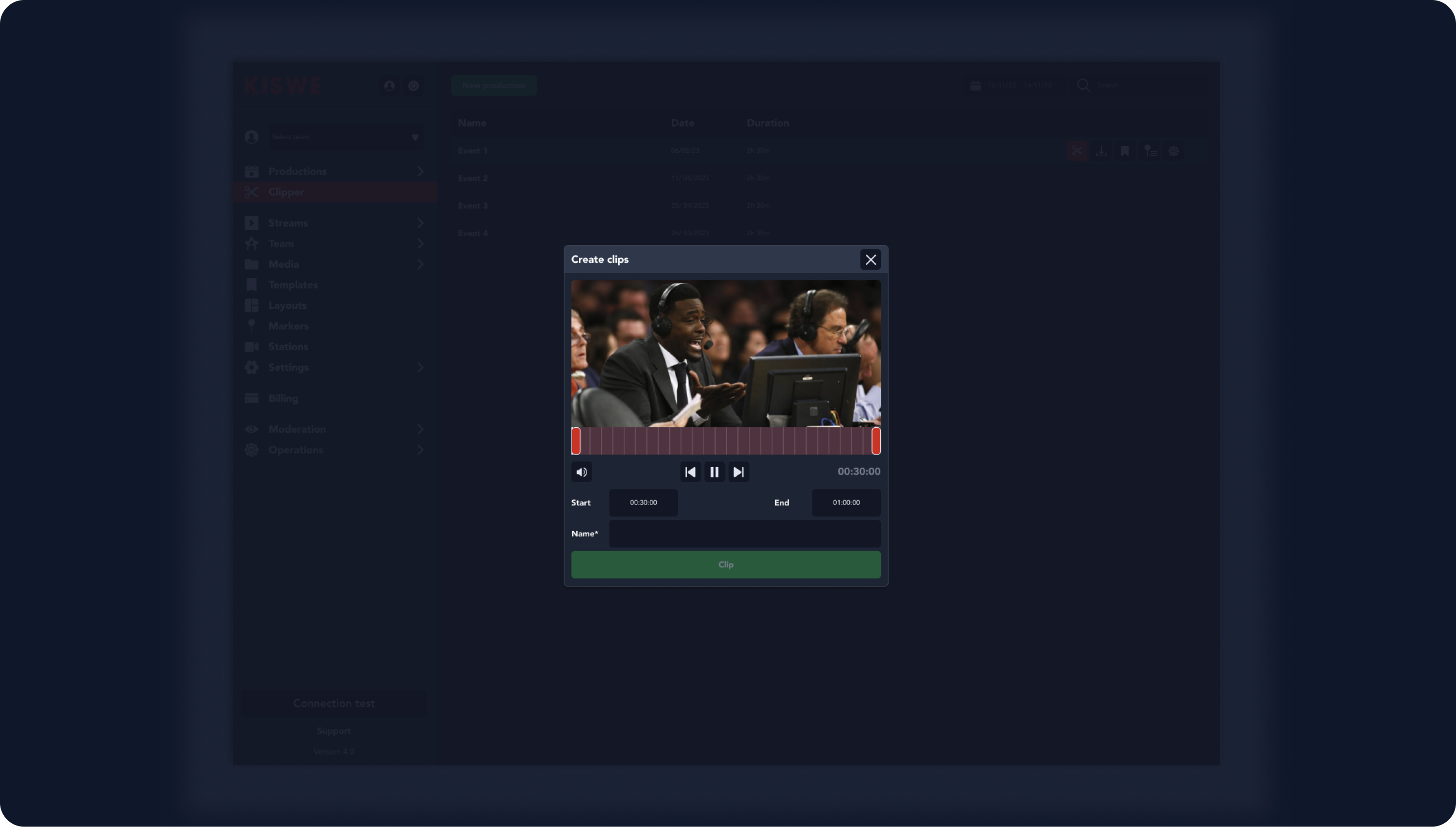 The final step in our usability enhancement journey is the upgraded clipper. We've refined its design, focusing on the essentials for clip creation and removing superfluous details. New clips are instantly available in the production list, ready for download and sharing.
https://support.kiswe.com/hc/en-us/articles/13955968087191-Create-small-clips